AHMEDABAD: Gujarat's scorching summer continues, with the mercury in 12 of the towns monitored by the India Meteorological Department (IMD), crossing the 40°C mark on Tuesday.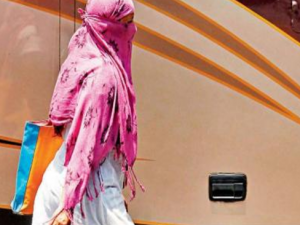 State capital Gandhinagar and Ahmedabad were the hottest towns on Tuesday, with maximum temperatures of 42.5°C. In Ahmedabad, the maximum was 2.7 degrees above normal and the minimum was 25.6°C, 1.6 degrees above normal. Relative humidity ranged from 50% to 14% on Tuesday.
According to the IMD, heatwave conditions prevailed at isolated places in the Saurashtra region.
A warning issued by IMD Gujarat said that heatwave conditions are most likely to prevail over the districts of Gujarat, Saurashtra and Kutch regions on Wednesday and Thursday.
According to the IMD, no relief from the extreme heat is likely in the coming days as dry and hot winds are expected to prevail over most parts of the state and temperatures are likely to rise further.
The state got some relief from the heatwave on Monday, as the winds changed from northeasterly to northwesterly, bringing moisture with them. This did not last long extreme heat again gripped the state on Tuesday.
In Ahmedabad, the heat threw regular live out of gear all through the day.
According to IMD, the maximum temperature in Ahmedabad will likely hover around 42°C over the next three to four days.
Doctors have advised that the severe heatwave calls for people to remain extra cautious. "Special care should be taken of the elderly and children, as they tend to get dehydrated even while indoors. They should be continuously given liquids. Medical care should be sought for symptoms like loose motions and vomiting," said doctors.