The Ahmedabad city was founded on 28th February 1411 by Ahmed shah. Ahmedabad is known as Amdavad Gujarati is the largest city and former capital of Gujarat, which is a state in India. It is the administrative headquarters of the Ahmedabad District and seat of the Gujarat high court. With a population of more than 6.3 million and an extended population of 7.2 million it is the sixth largest city and Seventh Largest metropolitan area of India.
Ahmedabad has emerged as an important economic and industrial hub in India. It is second largest producer of Cotton in India and its stock exchange is the country second oldest Cricket is a popular sports in Ahmedabad which houses the 54,000 seat Sardar Patel Stadium.  The effects of liberalization of the Indian economy have energized the city's economy towards tertiary sector activities such as commerce, communication and construction.
Origin name as Ahmedabad: – There is an interesting legend associated with the Ahmedabad city. Towards the beginning of the fifteenth century the state of Gujarat was ruled by the Muslim Muzaffarid dynasty. Once sultan Ahmed shah was standing on the river front Sabarmati where he noticed a tiny hare chasing a strong dog. He approached a spiritual leader and asked for explanation. This learned man said that it is the uniqueness of this land that cultivates such rare qualities after having heard this sultan got so impressed that he decided to set up the capital of Gujarat over here and he called this land Ahmedabad.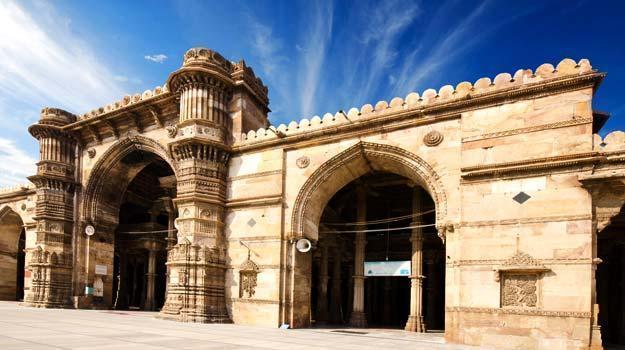 Ahmedabad Culture: – Ahmedabad city is well known for its diversified culture. People of Ahmedabad are very passionate about celebrating each and every festive occasion then be it Navratri the nine night festival or kite flying festival. People of Ahmedabad India are very lively and cherish each and every movement. The believe in living life in a very simplistic manner. When time for festival the whole city gets excited and celebrates the festive occasions with zest and zeal.
Ahmedabad lies in the state of Gujarat and it is due to this fact that Gujarati is most widely spoken language in Ahmedabad. Common languages of Ahmedabad, India are Gujarati, Hindi and English. The people of Ahmedabad usually in their native languages Gujarati….
The city of Ahmed shah as in Ahmedabad has plenty of historical monuments which attraction destinations of the city. The origin of most the historical monuments of Ahmedabad Gujarat can be traced back to the 15th century. The places are
Bhadra Fort
Dada hari vav
Jhulta minar
Sarkhej Roza
Teen Darwaza
Ahmedabad Museums
Ahmedabad Museums the glorious past of the city of Ahmed shah a visit to the museums of Ahmedabad. As we see museums will give a valuable insight in to the culture and lifestyle of Ahmedabad. Each and every Museum at Ahmedabad in Gujarat important artifacts, miniature paintings, and other items daily use. There are many different museums located in Ahmedabad like
Sardar patel national memorial
Sabarmati Ashram
Hussain Doshi Gufa
Calico museums of Textile.
Ahmedabad Fairs and Festivals
Ahmedabad is a land of fairs and festivals the celebration take place on a real grand scale in Ahmedabad.  The different fairs and festivals of Ahmedabad enable the locals as well as tourists to catch see cultural tradition of Gujarat. The celebration of religious festivals like Navratri, Diwali, and Holi that are dedicated gods and goddesses are truly secular in nature and people communities participate in all festivals. There are some festivals that are specific to the state of Ahmedabad like the international Kite festival and International furniture festivals even also celebrate of Navratri the festive of nine nights is special in Ahmedabad.
Uttarayan International Kite Festivals
Navaratri Festival Ahmedabad.
Ahmedabad Lakes: The Lake of Ahmedabad is very peaceful and calm the lakes provide a breathtaking view thus making it a very fascinating experience for the visitors. There are basically two lakes in Ahmedabad namely Kankaria Lake, Chandola Lake and Vastrapur Lake.
Chandola Lake
Vastrapur Lake
There are various religious temples like
Ahmed Shah Mosque
Hathee Singh Temple
Jama Masjid
Rani Rupamati Mosque
Iskon Temple
Vaishnovdevi Temple
Kalupur Swaminaryan Temple
Sidi Sayed Mosque